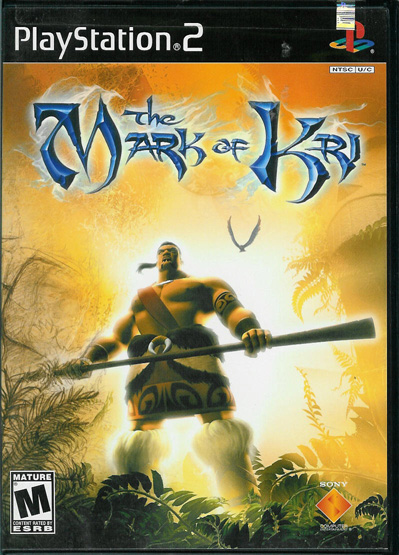 The Mark of Kri
Ah, The sublime pleasure of getting published. After Sorcery, Jetmoto, "Jetboat", and "Botz", I was beginning to wonder if it would ever happen again. But publish we did, and not only that, Mark of Kri was a real gem. It was a graphic Tour de Force backed up by challenging and rewarding gameplay, complemented with clear and clever level designs, and topped off with stellar, inspired sound. Alas, even with several great reviews, Mark of Kri never lived up to its potential in sell through.
In any event, I thoroughly enjoyed this project. I worked on the design, construction, and texturing of our large, beautiful levels. I did a lot more lighting on this project than before, and had to do several workarounds of some uncooperative Maya functions.
Although I worked on parts of many levels, I was the manager for the last level - The Necropolis. Our roughly six person team generated the dark ruins that housed the final boss and some of the toughest battles of the game. This level involved coordinating construction and assembly of several separate sections compiled together to make a large, semi-contiguous area. This was a good way to divide up the labor, but required close communication between myself and the other level builders to maintain consistency.
MOVIE